Special Offer: 12-Week Spring Spanish Challenge​
In the Next 12 Weeks, Finally Have Spanish Sentences Roll off the Tongue, Understand Native Speakers and Have a 15-Min Conversation Entirely in Spanish... GUARANTEED!
Ready to acquire real conversation skills in Spanish (beginner up to advanced levels available)?
If you've been learning Spanish for a while but you're not seeing the results you expected…
If you've been using traditional Spanish courses, taking classes, or you've used some of the "mainsteram" apps or books…
If you've spent your time memorizing word lists, you've learned grammar rules and conjugation tables…
But no matter what you try, you feel clumsy and tongue-tied in conversations…
You're translating in your head…
And you can't understand anything native speakers say…
Then you're in the right place!
Imagine the following: in 12 weeks from now, you step off a plane in a Latin-American country… 
And you can comfortable talk your way through all situations you end up in that day… all in Spanish!
You chat up the taxi driver and he ends up telling you his family history… and you yours.
In Spanish.
At a restaurant, you ask the waiter for drink and food recommendations and you discover a local delicacy. 
All in Spanish.
You go grocery shopping.
You make new friends.
All, comfortably, in Spanish. 
You won't understand everything. And you won't speak without any mistakes. (Anyone who promises you this in 12 weeks is lying.)
But you hold yourself together…
And you can focus on discovering the culture, connecting with the locals, and actual conversation, instead of worrying about grammar rules and translating in your head!
Even if this sounds like a far-fetched dream to you right now,  this is what you can achieve in the coming 12 weeks, together with us!
We're Lukas and Gabriel, Two Polyglots Who Speak 12 Languages Combined And Joined Forces to Develop The World's First Language Learning Platform Powered By Conversation Based Chunking™
After both learning to speak 6 languages, growing the biggest language blog in Germany, organizing and speaking at language conferences and writing a book about Conversation Based Chunking™, we decided to join forces and build a language learning platform to help millions of people speak foreign languages fluently.
Conversation Based Chunking™, the method we developed for our language programs (and that you'll discover in just a second), is scientifically proven and tested by tens of thousands of students! 
We hope YOU will be our next "I speak fluent Spanish" success story…
Read on to discover how that's going to happen!
Learn Spanish through dialogues and chunking... so you don't even have to think about grammar!
Most courses and language schools focus so much on teaching you the words and grammar prescribed in the curriculum… that they forget to show you what REAL Spanish dialogues look like.
So when you actually end up in a conversation with a Spanish native speaker, you aren't prepared at all.
You don't know what a "natural" Spanish sentence looks like…
You'll be translating from your mother tongue…
And have to think about grammar rules and conjugations all the time.
A much faster and better way to speak with the fluent sentences Spanish native speaker use as well is simple:
Observing the sentences Spanish native speakers use in real-life conversations!
Because guess what: in these conversations you'll hear exactly which words they use to express themselves, and especially which word combinations (we call them chunks) they use.
If you start listening to full sentences and dialogues in Spanish, soon you'll start having ah-ha moments, where you think:
"Ah, so THAT'S how a native Spanish speaker says it!"
And it gest even better: after you've heard what Spanish native speakers say to each other…
you can now start saying exactly the same thing, without even having to think about the grammar behind it.
After all, you've just heard a native speaker say it… so you know for a fact it sounds natural!
Here are some examples from chunks, taken from a native-speaker confirmation (the chunks are highlighted in yellow):
This Is Why Learning Chunks Instead Of Words and Grammar Works So Well...
Languages (like Spanish, your mother tongue, and any other language) don't exist in your brain as sets of words that you combine with grammar rules.
Instead, your brain contains a huge network a language patterns: word combinations, (or CHUNKS as linguists call them) that are always (or very often) used together. You've heard and used them together so often that the patterns in your brain became unbreakable… and they just roll off the tongue!
That's why Spanish native speakers usually aren't very good at explaining the difference between "ser" and "estar", or "por" and "para".
They never had to learn any conjugation table, and they also don't know any rules for using the "subjuntivo".
And yet, they use it correctly… because their brain has stored it all as chunks!
This doesn't mean you won't need to learn any grammar, of course (in a second we'll show you where grammar comes in).
But the ONLY way of bypassing grammar (like you do in your mother tongue) and speaking Spanish effortlessly… is by getting these chunks imprinted on your brain.
And that is exactly what we specialize in!
"Start Learning Spanish Through Chunks And You Can Cover in Half the Time What's Expected From a Whole Year of Language Learning"
Here at Spring Spanish, we've spent years to develop a 4-step method that allows any language learner to identify chunks, imprint them on their brain, and having fluent sentences roll off the tongue in ANY language.
That's correct: this doesn't only work for learning Spanish!
We've used it successfully to learn 5 languages ourselves, and tens of thousands of other students applied it to master  German, French, Italian, English and other languages.
Spring Languages co-founder has written a best-selling Amazon book about it and spoken about it at international language conferences.
The concept of chunking is well-researched: many linguists have books written (quite abstract) books about it, going as far as saying you can "cover in half the time what is expected from a whole year of language learning." (Wilkins, in Linguistics in Language Teaching)
Luckily, we've done the work of researching and experimenting for you so YOU can tap into the power of chunking as well to speak fluent Spanish… through Conversation Based Chunking™!
Conversation Based Chunking™: a proven, 4-Step Process to Imprint Chunks on Your Brain And Speak Spanish Without Translating in Your Head
Conversation Based Chunking™ is not only effective… it's also way more fun than learning boring word lists and grammar rules 😉
Here's how it works: 
Step 1: Observe dialogues between Spanish native speakers. So listen and read as much as possible!
Step 2: Identify the chunks native speakers use all the time… and that you want to start using yourself as well.
Step 3: Imprint chunks on your brain (through repetition, repetition, repetition)
Step 4: Impress Spanish native speakers by the flawless Spanish sentences that roll off the tongue!
If You Follow These 4 Steps, Getting Fluent in Spanish Is INEVITABLE
How do we know?
Because we had thousands of students use Conversation Based Chunking™ already to learn Spanish, German and other languages!! 
Like Robert:
THIS Is What We Want For YOU As Well!
Wouldn't it feel amazing to get results like this? To achieve Spanish skills in a mere 12 weeks what most people need a year for?
Which brings us to our newest Spanish program that we'd like to invite you to…
Introducing the 12-Week Spring Spanish Challenge (different levels available)
The Spring Spanish Challenge is a proven 12-week Spanish program with the sole purpose of helping you have fluent Spanish sentences roll off the tongue and understand Spanish native speakers. Our ultimate goal? At the end of the Challenge, making you have a 15-min conversation with one of our tutors… on a topic of your choice… entirely in Spanish. We even GUARANTEE it! (Conditions apply, read on to learn more)
It doesn't matter if you don't have tech skills or previous language learning experience or don't understand the concept of Conversation Based Chunking™ yet. Everything is explained step-by-step in this training program.
Here's How It Works:
You enroll in the Spring Spanish Challenge.

You take an assessment test, and get assigned to Nivel 1, 2 or 3 (beginner up to advanced).

For 12 weeks, you get weekly lessons (dialogues) to implement Conversation Based Chunking™, learn chunks and practice your speaking.

Our Spanish tutors help you with the chunking and practice speaking with you.

You connect with other students in the Student Community and practice together.

After 12 weeks, you hold a 15-minute conversation with one of our tutors… entirely in Spanish! And you can now also converse comfortably with other Spanish native speakers on topics that actually come up in your life!
Here's Everything You Get In The Spring Spanish Challenge:
1. 12 Weeks of Spanish Dialogue/Monologue Lessons At Your Level
Our Spanish teachers have created dialogues designed to show you how to speak natural Spanish, like native spekaers do.
After you enroll, you get an assessment test that assigns you to a level: Nivel 1 (complete beginner), Nivel 2 (upper beginner/lower intermediate) and Nivel 3 (intermediate/advanced). (Don't worry, if you're not happy with your assessment result you can switch level! 😉 )
Then, every week for 12 weeks, you get access to 1 Unidad with lessons. Moreover, these units also cover essential situations in which you'll need to be able to speak Spanish. The also cover all foundational grammar for your level (the stuff you need for certification exams)!
All the lessons are available in our private Spring Languages Academy that you can access from any computer, tablet or mobile device.
You get lifetime access to all materials, so even after the Challenge ends you can keep accessing them).
And you can also download and/or print out the materials if you prefer to learn with paper materials or listen to the dialogues on your commute.
We also show you how to use the learning materials to extract and imprint chunks with Conversation Based Chunking™!
Dialogue audio recorded by native speakers so you can practice your listening skills (you can also download these as .mp3 files)
A verbatim dialogue transcript with parallel translation in English so you can follow along easily and understand every word (and chunk)
A downloadable pdf transcript with chunks highlighted. You'll have essential chunks laid out for you!
Lesson notes with full grammar explanations to understand the Spanish patterns and structures in each dialogue. We cover all foundational grammar!
Video Explanations by our Spring Spanish Teachers
Exercises with each dialogue
A digital flashcard deck for each lesson. The flashcards help you imprint the chunks on your brain and have native-speaker audio. They're available for you to practice anywhere and anytime in a special app for your phone/tablet/computer.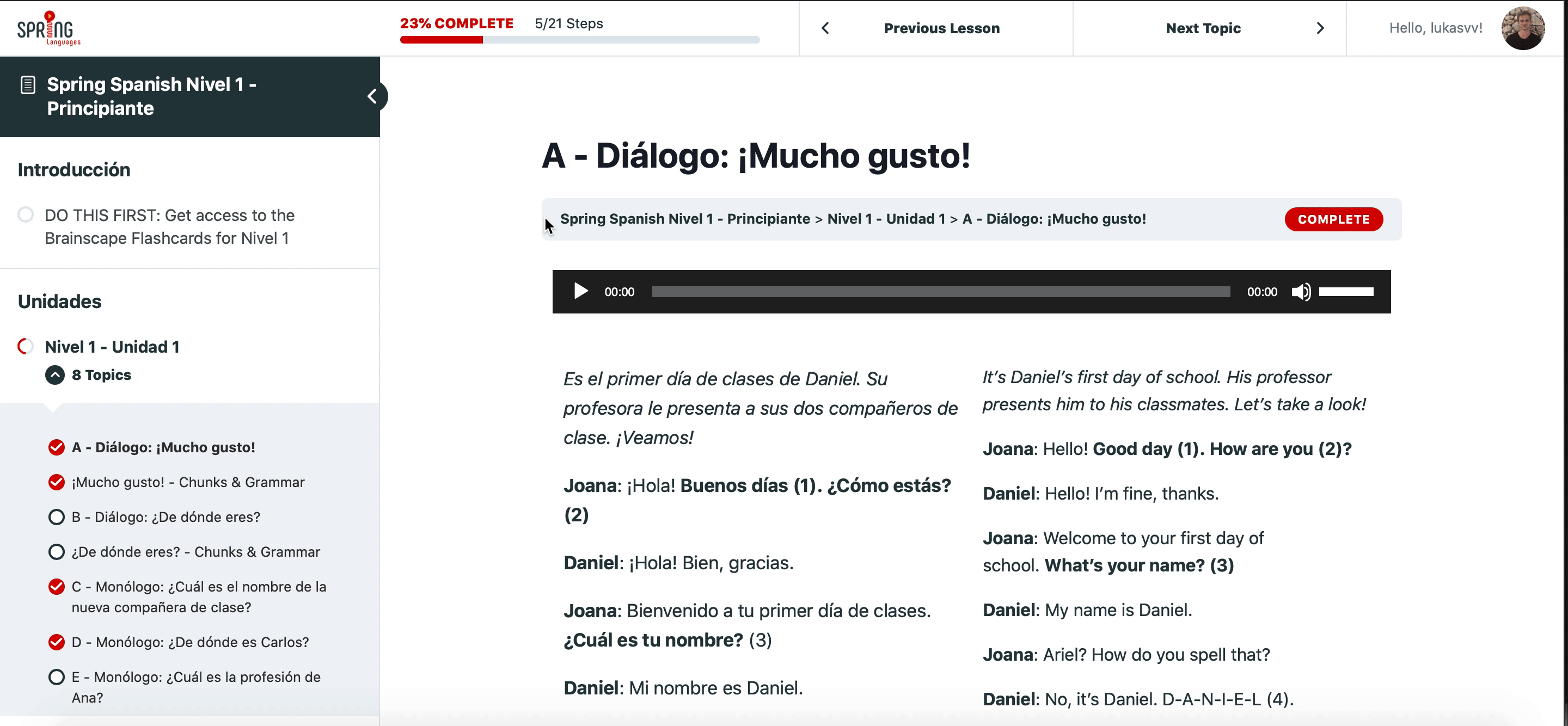 2. Lifetime access to Spring Spanish Community, Live Calls & Tutors
If you stick to this 12-Week Spanish Challenge, you'll make enormous progress. We can guarantee that. And our team will do everything to keep you on track! 
Weekly Group Practice Calls: our tutors will answer all your questions live, you can learn from other people's questions, and if you want, you can come on screen and practice your Spanish with us!
A Community with your fellow Challenge participants and Spanish tutors answering your questions. Being in a group of other passionate language learners, who are more or less at the same level, have the same interests, who go through the same struggles and victories as you do.
Writing exercises in the Community: practice your Spanish and our tutors will correct what you write! 
(If you participate in the FULL or INTENSIVE Challenge): Implementation Calls with our Spanish tutors, certified in Conversation Based Chunking™, where you put into practice al the chunks you've imprinted on your brain… and prepare yourself for real-life conversations in Spanish! Depending on your Challenge, you get 1 or 3 Implementation Calls with our tutors every week.
The best part: Learning Spanish might very well be a lifelong project for you (and a lifelong source of joy). And we want to be with you every step along the way… so you get lifetime access to the community and the group Q&A Calls! 
So even if you take a bit longer to finish the Challenge, or you just want to keep in touch with us and the other students, we'll be here for you
3. Finish the Challenge, Notice Your Progress and Impress Spanish Speakers!
If you follow the program during these 12 weeks, you'll make some pretty incredible progress.
Remember Brian, the guy who followed the Chunking method in his own 3-month challenge and said that it felt like he did a full year of Spanish study in just 3 months?
Well, it might be just like that for you too!
And during the Big Review, at the end of the 12 weeks, you'll see exactly how much you've improved.
During this review session, you look back on what you accomplished, and see if the following things happened (I'm sure they will have):
Your listening comprehension will have improved, so you'll understand native speakers
You'll have learned a lot of vocabulary and chunks. A lot. And not just random words or grammar rules, but actual vocabulary that you can use immediately in sentences!
You'll have the chunks imprinted on your brain and they'll roll off the tongue in conversations. No more clumsiness, no more guessing!
You'll have added a new "Spanish Dimension" to your life.
You'll have created some really solid language learning habits! 3 months of consistent studying, immersing, doing flashcards, listening, has a transformational effect on you.
You'll be skilled in Conversation Based Chunking™ and it'll give you the confidence that you can take on ANY language. Over and over again!
In sum: Everything The Spring Spanish Challenge Gets You
The Spring Spanish Challenge gives you EVERYTHING you need to take your Spanish to the next level, in a fun, effective and interactive way.
Imagine just waking up every day and knowing that that day, you'll imprint more Spanish on your brain…
Spanish that'll really help you to become a confident and elegant speaker on the topics that'll come up in your life…
And that's delivered in a step-by-step course, bite-sized lessons, coaching, exercises and resources so that you don't have to look up any materials anymore yourself!
That's how easy the Spring Spanish Challenge makes it to learn Spanish/
Of course, the only thing left for you is to take action…
And make no mistake: without implementation, you'll still get nowhere!
You'll still need motivation and dedication and put in the work!
But the Spring Spanish Challenge takes all the unnecessary hassle out of your hands, so that you can focus purely on learning and using your Spanish!
Here's What Our Students Are Saying About Learning Spanish (And Other Languages) With Us:
So What Is Speaking Fluent Spanish Worth to You?
You could go for a university course, which (depending where you are in the world) can easily cost $10,000/semester.
You could hire a private tutor and get weekly tutoring sessions. Such a tutor will easily cost you $50/h; suppose you do 2 sessions a week, that will set you back $1200 for 3 months .
Now here's the thing: while we believe that an investment from your side is actually a good thing to give yourself the proverbial kick in the butt and take action, mastering Spanish, connecting with Spanish culture and chatting away with native Spanish speakers doesn't have to cost you an arm and a leg.
Moreover, it doesn't have to be boring, difficult, and it certainly doesn't have to take away all your time!
A Special Opportunity For You...
Spring Spanish Challenge - BASIC
12-Week Training Program with Assessment and Custom Learning Materials​

Full Library of Spanish Dialogues, Monologues, Audio, Grammar, Flashcards, Quizzes (you choose your level AFTER enrolling)

Lifetime Access to all Materials and Community

Spanish Tutors answers all your questions in Q&A Forum and during Live Calls

30-Day Unconditional Money-Back Guarantee

Dedicated Flashcard App and Website for On-The-Go Learning

BONUS: 3 months free access to the Spring Spanish Inner Circle (flashcards and transcripts for all our YouTube videos)
Spring Spanish
Challenge - FULL
Guaranteed Fluent Conversations in Spanish! (Read on for T&C)
All Basic Features Included

6 months free access to the Spring Spanish Inner Circle (flashcards and transcripts for all our YouTube videos)

12 SPEAKING SESSIONS WITH A CERTIFIED TUTOR!


OWNERSHIP IN OUR YOUTUBE CHANNEL: MEET&GREETS AND VOTING RIGHTS ON NEW VIDEOS


FLUENT CONVERSATIONS GUARANTEE: IF YOU CAN'T HOLD A 15-MINUTE CONVERSATION IN SPANISH WITH OUR TUTORS AFTER FINISHING THE COURSE, GET YOUR MONEY BACK AND 10 EXTRA FREE SPEAKING SESSIONS (T&C APPLY, SEE BELOW)







Spring Spanish Challenge - INTENSIVE
Guaranteed Fluent Conversations in Spanish! (Read on for T&C)
All Basic Features Included

12 months free access to the Spring Spanish Inner Circle (flashcards and transcripts for all our YouTube videos)

36 SPEAKING SESSIONS WITH A CERTIFIED TUTOR!

OWNERSHIP IN OUR YOUTUBE CHANNEL: MEET&GREETS AND VOTING RIGHTS ON NEW VIDEOS

FLUENT CONVERSATIONS GUARANTEE: IF YOU CAN'T HOLD A 15-MINUTE CONVERSATION IN SPANISH WITH OUR TUTORS AFTER FINISHING THE COURSE, GET YOUR MONEY BACK AND 10 EXTRA FREE SPEAKING SESSIONS (T&C APPLY, SEE BELOW)
You're Backed By a DOUBLE Satisfaction Guarantee!
GUARANTEE #1: Unconditional 30-Day Money-Back Guarantee (valid for ALL PACKAGES, BASIC, FULL AND INTENSIVE)
Here's the deal: We're working closely with the participants in this 12-Week Spanish Challenge to make sure we can really help them reach their language learning goals with relevant resources, coaching, support, guidance etc.
We're confident you'll make great progress.
In any case, you get 30 days to check out the program, attend the live sessions and get started with your lessons, and if after 30 days you feel that you're not making the progress you wanted, you let us know and you'll get a full refund! You can even keep all the learning materials you received in the first month.
GUARANTEE #2: Conditional "Fluent Conversations" Guarantee (valid for FULL AND INTENSIVE packages, but
NOT

included in BASIC)

We have another, conditional guarantee, that basically guarantees you'll get fluent in Spanish!

A way to make sure that no matter what happens, you're going to be better off after doing the Challenge than before you enroll in the Challenge today!

Here's how it works. During the Challenge:
You fill out and submit a Personal Progress Tracker every day for the whole duration of the Challenge (yes, every day: we check this).
You complete all the lessons in the course
You come to all the group Q&A calls
You complete all the writing exercises
You come to all your Implementation sessions with a tutor
So basically, you take the program exactly as we designed it.
If you've done everything exactly as described above… guess what: you most likely won't even need this guarantee, because you WILL speak Spanish confidently.
But if for whatever reason that I can't comprehend you do all this and you haven't made any progress in Spanish, or nobody tells you "wow, hey, your Spanish has improved!"…
We'll not only give you your money back;
We'll ALSO offer you 10 EXTRA, 1-on-1, 1-hour speaking sessions with one of our certified tutors, free of charge.
An intensive, individual crash course, to get you up to speed and get you speaking Spanish NO MATTER WHAT.
This guarantees you'll speak fluent Spanish (especially since you've also done 90 days of Conversation Based Chunking™ with our lessons before)!
(This guarantee is only included in the FULL and INTENSIVE packages. Since we don't offer private conversation classes in the BASIC package, we aren't able to offer this guarantee for the BASIC package.)
Still Not Sure If This Will Work For YOU? Check Out More Student Results From Our Courses For Spanish, German, Italian, French,...
Frequently Asked Questions About The Challenge
If you're serious about learning Spanish – and you want to feel confident and in control about the whole process…
…If you want to become a Spanish learner who knows what he or she's doing…
…Who says: "I'm going to learn Spanish" and then actually does that in the fastest and most efficient way…
…Then there is no better path than through this Spring Spanish Challenge.
Look at what Joy, a former student in our courses, has to say about Conversation Based Chunking:
Why am I showing you this?
Well, because yes, you could continue with what you were doing and keep struggling.
But we also know that if you've made it to this point, that you love the Spanish language and that you're absolutely ready to take it to the next level.
There's no need to be overwhelmed by your language learning a single day longer.
There's no need to continue fiddling around because you don't know exactly what you're doing.
There's no need to be frustrated and overwhelmed because you're not making any progress…
We know Effortless Conversations in Spanish are possible for you. Now let us help you achieve it!